Utah National Parks
There are 13 National Parks in the state of Utah and many of them, including The Mighty 5, are within driving distance from our hotel in Torrey, Utah. Just one mile from Capitol Reef Resort, you will find the entrance to Capitol Reef National Park, known by the Navajo as the "Land of the Sleeping Rainbow". If you're up for a scenic drive or looking to explore more of what Utah has to offer, take a trip to some of the other nearby parks listed below.
Capitol Reef National Park
Just down the road from our hotel in Torrey, UT – Capitol Reef National Park dates back to the early Archaic hunters and gatherers in our country. Take a short hike across the Hickman Bridge or pick up some delicious in season fruit from the orchards in the Park. Make sure to stop by the Petroglyph Panel where etchings in rock walls and painted pictographs remain as sacred remnants of the ancient Native Americans' saga.
Arches National Park
Arches National Park hosts the most stunning delicate archways and balanced rock formations native to Utah. With thousands of arches, spires and pinnacles, there is plenty to see at this iconic National Park. Hike or four-wheel drive your way through the scenery, or mountain bike some of the Park's 76,359 acres of land. Locals say the best time to visit Arches National Park is at sunrise or sunset!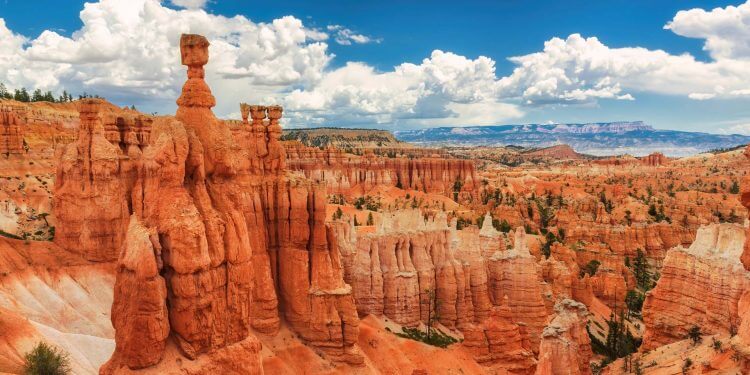 Bryce Canyon National Park
Bryce Canyon, located in Southwestern Utah, is named after Mormon pioneer Ebenezer Bryce and known for its Hoodoos – odd-shaped pillars of rock left standing from the forces of erosion. Visit the historic location where the early settlers established their homes, or take a horseback ride through the color rich canyons known as the Forest of Stone.
Canyonlands National Park
As the largest National Park in Utah, Canyonlands provides an endless rugged landscape ideal for those seeking an adventure. The Green River and Colorado River divide the Park into three districts – Island in the Sky, The Needles, and The Maze – with many areas are only accessible via four-wheel drive vehicles. We suggest taking a hike to Mesa Arch at sunrise for an unforgettable experience.
Zion National Park
Zion National Park dates back to 6,000 B.C. making it Utah's First National Park. Original settlers of the area hunted camel, giant sloth and even mammoth. Although these species have long since died out in Utah, there is still plenty to see and do at Zion. Canyoneering, backpacking and Kolob Canyon sightseeing are just a few of the activities perfect for day trips to this area.
Grand Canyon National Park
While not in Utah, Grand Canyon National Park is a must see destination and just a few hours drive from Capitol Reef Resort, making it an ideal pit stop on your journey through the West. Whether you pull off on one of their many scenic overlooks or take a hike into the famous canyon, The Grand Canyon will never disappoint!
A few things worth noting